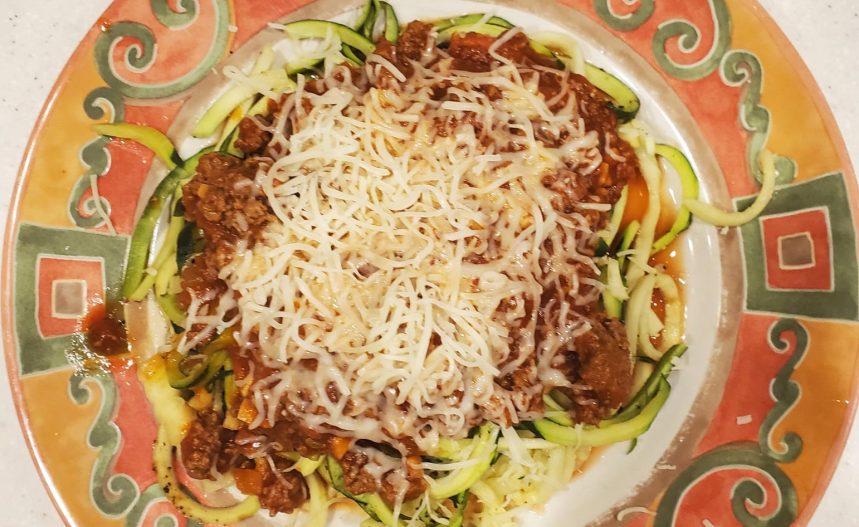 5-6 medium zucchini
1 lb. beef
½ lb. Italian sausage
2 TB olive oil
Olive oil cooking spray (Or toss gently in olive oil)
1 large yellow onion
3 cloves garlic
2 cans crushed tomatoes
2 bay leaves
1 TB of basil
1 TB of oregano
Pinch red pepper flakes
Italian cheese
Directions
Preheat oven to 400 degrees F.
Spiralize the zucchini (if you don't have a spiralizer cut into 1-1/2" thin sticks Penne). Lay zucchini on a kitchen towel and sprinkle with salt. Put another towel over the top and let sit for an hour; this will pull the water from the zucchini and make it firmer.
Pat the zucchini dry and put on a roasting pan. Spray with olive oil and sprinkle with pepper. Roast in the oven at 400 degrees for 15 minutes.
In a large pot brown the beef and Italian sausage when browned remove all the fat and add 2 TB. of olive when hot add onions and sauté till translucent add the garlic and sauté for another minute. Add the 2 cans of crushed tomatoes bay leaves, basil, oregano and pepper flakes.
Let simmer for 1-1/2 on low stirring occasionally. Transfer zucchini to a bowl and add 2 cups of sauce toss to mix. Pour the balance of the sauce into another bowl and serve with Italian cheese