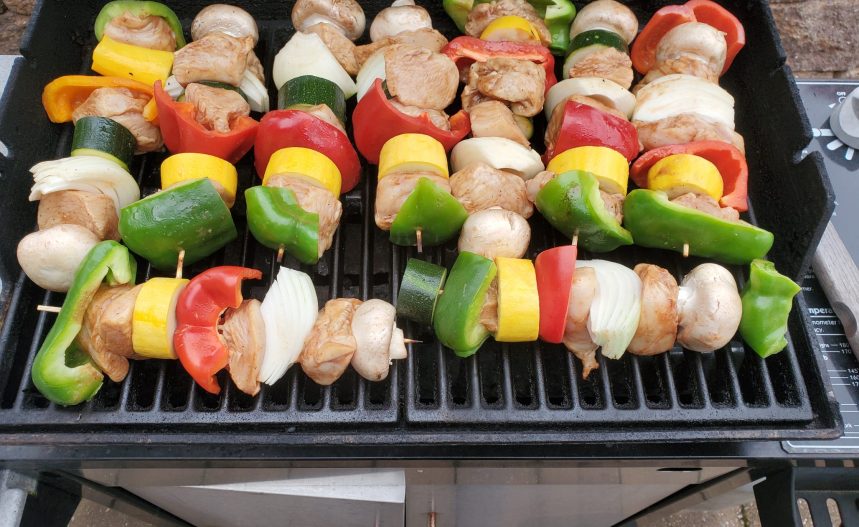 2 lbs of boneless chicken breast or thighs
1 cup of pineapple juice
1/8 cup soy sauce
1/8 cup Worcestershire sauce
1/8 cup barbecue sauce
1 tsp garlic powder
½ tsp Pepper
2 large green peppers
2 large Sweet bell peppers (red, yellow or orange)
2 large onions
1 package large mushrooms
2 green zucchinis
2 yellow zucchinis
Wooden skewers
Directions
Cut chicken into chunks (breasts 5 pieces thighs 3 pieces) place in a large zip lock baggie and all ingredients pineapple juice thru pepper. Seal bag and marinate for a couple hours on the refrigerator. Soak skewers in water.
Preheat grill to highest temperature (or preheat oven to 400 degrees).
Cut all vegetables into large chunks. Assemble the skewers by placing 1 of each vegetable and 3 pieces of chicken alternating vegetables and chicken. Spray grill with a non-stick spray place skewers on hot grill close lid and let cook for 5 minutes turn temperature down to 400 degrees let cook 5 more minutes.
Using 2 sets of tongs turn each skewer over and brush left over marinade onto skewers. Close and reduce heat to 300 degrees and let cook 15 more minutes. Remove skewers from grill and let stand for 5 minutes before serving.
If using the oven after 20 minutes brush the skewers with remaining marinade let cook 15 more minutes let stand 5 minutes before serving. Total 35 minutes at 400 degrees.
Footnotes
Cook's Note:

It is best not to use tomatoes on the kabobs because they cook quicker that the other vegetables and fall apart on the kabobs. This dish goes well with the Rice Pilaf.